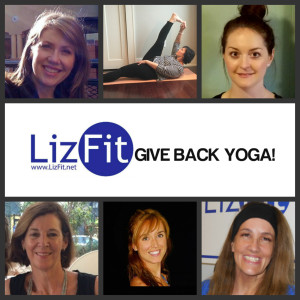 What is LizFit GIVE BACK YOGA?
6 weeks of FREE yoga for everyone!  Starting Saturday April 16th through Tuesday May 31st, LizFit will be offering 5 yoga classes a week on different days and times with some of the NEWEST talent on the seacoast! Donna, Sheilah, Erica, and Liz are about to finish their 200 hour yoga certification in June and would love to have you experience their wonderful classes!  Experienced instructors, Elyse and Rebecca are also quite excited to have you join them as well.
To view the different classes, instructors and class descriptions, visit the MINDBODY class schedule, or LizFit website, or pick up a schedule at Spinnaker.
LizFit is giving back Yoga to the LizFit community at Spinnaker (and nonmembers too!) as a thank you for the opportunity Spinnaker has given LizFit to grow her small local business within a wonderful and supportive community.
How to sign up and take advantage of these classes?  Create a MINDBODY account to reserve your space. MINDBODY LINK
What to bring?  Please bring a mat if you have one.  If not, LizFit can provide you with a mat.
Never taken a yoga class?  No worries!  Just check out the descriptions of classes on the LizFit CLASS SCHEDULE to see which one works best for you!
Please come at least 5 to 10 minutes early to get set up and meet these your instructor.
All classes are held at Spinnaker Recreation Center, in the room directly across from the Front desk.