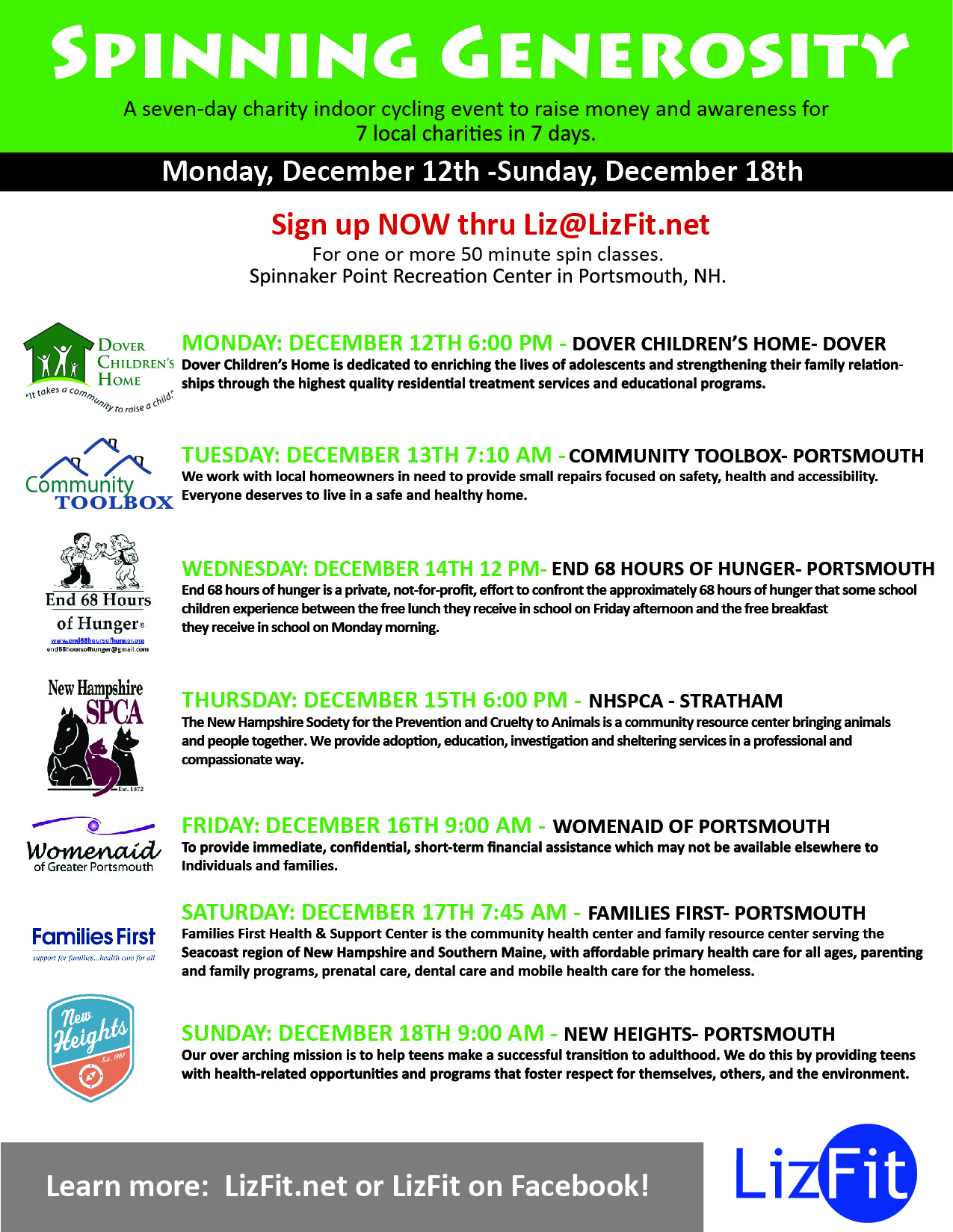 1. What IS SPINNING GENEROSITY?? 
SPINNING GENEROSITY is a week-long charity event hosted by LizFit. Every day, from December 12th – 18th, we will host 1 spinning class to raise money for local charities. Ages 18 years and up are welcome! This is a community event where we focus on having fun and giving back! Plus, you get in a great workout!! ALL donations go directly to seacoast charities!
2. What Charities will we be riding for? 
This year we will be riding for; Dover Children's Home, Community Toolbox, END 68 Hours of Hunger, NHSPCA, Womenaid of Greater Portsmouth, Families First, and New Heights. 
***Only SIX of the SEVEN charities are voted back each year. The three that generate the highest profit automatically come back!! GAME ON! 
3. How much does it cost? 
This year, we are asking a minimum of $50.00 per seat per ride. This will ensure that at least $1,000.00 is generated for each charity. If you want to ride but this amount is not in your budget, ask your friends to support you! Lots of people have backers during SPINNING GENEROSITY. If you need help raising money, e-mail Liz ([email protected]). 
EXAMPLE: If you have five friends who each donate $10.00 to your Families First ride, that counts as 5 votes to bring back Families First next year!! 
3. Am I allowed to donate money to a charity but not participate in the class? 
OF COURSE!!! We gladly accept all donations and appreciate your generosity even if you don't want to ride! You can contribute to someone else's ride, or coordinate delivery with Liz. Your vote will go towards the charity of your choice!  All donations MUST be in by Sunday December 18th, 1PM!
5. How do I pay?
Payments can be made by either cash or check. Please bring payment to your ride(s) as all donations will be collected before you hop on a bike! If you are writing a check, please make it out to the charity you are riding for. 
4. How do I sign up? 
You can sign up on LizFit.net, or through the LizFit App! Space is limited for this popular event but DON'T FORGET, if you want to ride, you can always put your name on the waiting list and cross your fingers!!
5. What's in it for us? 
Glad you asked because there's a LOT! On top of feeling good about helping our neighbors in need, each rider will be provided with an exclusive t-shirt, water bottles, and, for the individuals who ride for the TOP THREE charities, a wine and cheese party!!! YIPPEE!!! 
————————————————————————————————-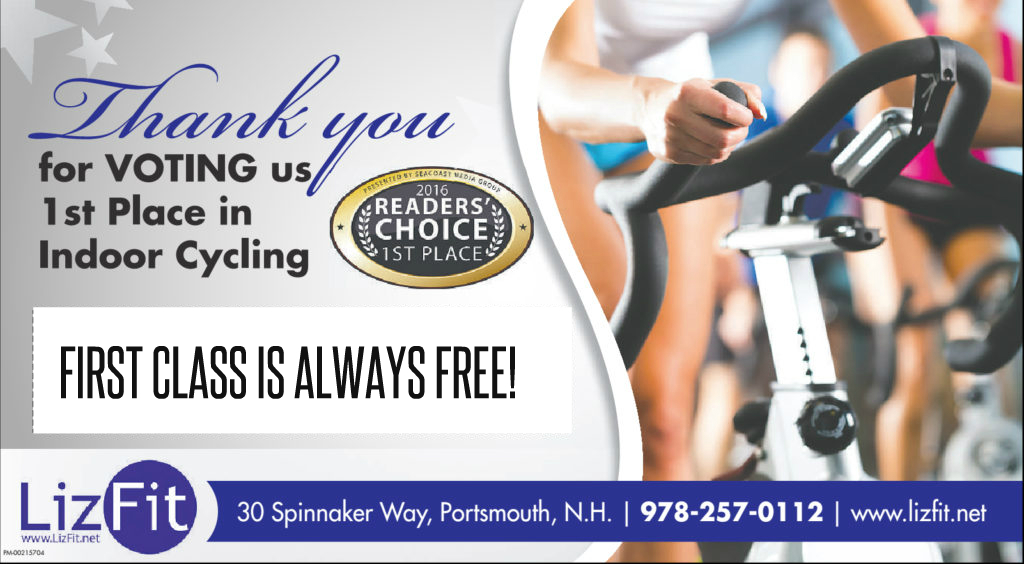 We are so humbled, grateful, and crazy excited to announce that
LizFit has won #1 CYCLING STUDIO on the seacoast!!!
AND voted, Runner Up for Best Personal Trainer on the seacoast!
Couldn't be more filled with joy!
A sincere thank you to all who are a part of LizFit – for your unwavering support throughout our 12 years in business. So much love.-Liz
How to sign up for classes: Simply download The LizFit APP Link from ITUNES and GOOGLE PLAY!