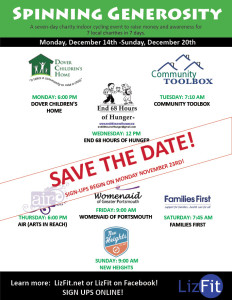 5th Annual SPINNING GENEROSITY fundraising event! Monday, December 14th – Sunday December 20th!
Tis the season for giving! And having FUN while doing so!
It's no secret there is a true sense of Charitable need in the seacoast and SPINNING GENEROSITY is here to improve that! Join the LizFit gang by SPINNING your way towards helping seven local charities!
From December 14th through December 20th , LizFit will host a total of seven SPIN rides (1 each day) that focuses on benefiting one LOCAL seacoast charity each day.
Here's the scoop!

Participants who want to attend one or more of the 7 SPIN classes, will be able to reserve their seat starting November 23rd. Each participant will be asked to raise a minimum of $50 to benefit their charity. 100% of the proceeds go directly to the charity!
All we need is YOU! Your support will mean so much to each organization and we couldn't do it without your festivity and participation.
THE FACTS:
Who: YOU! Anyone 18 years or older can participate in SPINNING GENEROSITY by cycling or donating to any charity throughout the week!
What: Seven, 45-minute SPINNING classes throughout the week!
When: See schedule below. Sign-ups begin November 23rd!
Where: LizFit – based at Spinnaker Point Recreation Center in Portsmouth, NH!
How: Through your participation, we are able to benefit some amazing, local charities!
Why: We want to give back to this wonderful community we're so thankful to be a part of and have fun while doing so!
Party??? YES, if you donate to one (or more) of the Charities that raise the most money, YOU and the Charity are invited to a wine and cheese party!
Not a SPINNER?
Those who aren't able or don't want to spin, but wish to contribute, may still drop off a donation on the day their preferred charity is featured or at anytime
during that week.
However, all donations MUST be in by the last day of event, Sunday, December 20th by 3PM!
Daily grand totals raised will be posted on
LizFit.net
and Facebook to encourage good-nature competition among all 7 charities.
2015 SPINNING GENEROSITY LINEUP OF THE 7 LOCAL Charities!