---
11TH ANNUAL
SPINNING GENEROSITY
2022
---
About SPINNING GENEROSITY
LizFit is all about community. Every year we come together to support 7 local charities through 7 days of indoor cycling and giving. We have organization leaders speak to us at the beginning of each class so we could be educated about each charity, and learn how the money raised this week was going to benefit their endeavors and contribute to our neighbors in need.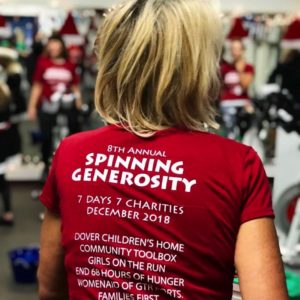 We always look forward to this wonderful time of year when we can come together in bringing a little holiday spirit as well as much needed funds to help these charities meet their goals. 100% of the proceeds go to the nonprofits, and Liz Forkel covers all costs of the classes, marketing, tees and other giveaways, as well as donates all her time. Portsmouth Recreation waives all fees so that all the generous donations go directly to the organizations that need them.
Every year we have a blast, and each year seems to somehow get better than the year before. We're not sure how it's even possible. We can be sure of one thing though, and that is our generous LizFit community. Whether an individual has been spinning with us for years, or it was his or her first time ever experiencing a spin class, the generosity that oozes from each ride is incredibly inspiring. We feel so grateful to be a part of this celebration of giving.
Our 11-year fundraising total:
$517,080.00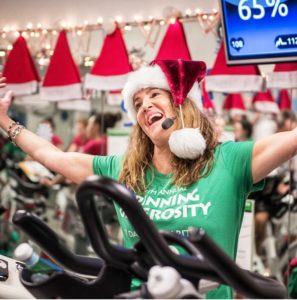 Spinning Generosity yearly breakdown:
2022: Total raised $130,097 (TOP DOG CHARITY: Gather)
2021: Total raised $119,481 (TOP DOG CHARITY: Gather)
2019: Total raised $70,862 (TOP DOG CHARITY: Gather)
2018: Total raised $49, 658 (TOP DOG CHARITY: Community Toolbox)
2017: Total raised $42, 353 (TOP DOG CHARITY: Families First)
2016: Total raised $40, 121 (TOP DOG CHARITY: Families First)
2015: Total raised $21, 389 (TOP DOG CHARITY: Families First)
2014: Total raised $12,750 (TOP DOG CHARITY: Community Toolbox)
2013: Total raised $13,680 (TOP DOG CHARITY: Womenaid of Greater Portsmouth)
2012: Total raised $9, 174 (TOP DOG CHARITY: Dover Children's Home)
2011: Total raised $7, 515 (TOP DOG CHARITY: Womenaid of Greater Portsmouth)