SGT classes are exclusive to

Small Group Training

and

Small Group Training Unlimited

members.
Check out our Memberships page if you are interested!
---
Current Small Group Training (SGT) Classes:
Myzone HIIT and Strength
Instructor: Liz Forkel
Enjoy a different workout each week that trains your heart and your body!  25 minutes of cardio HIIT (High Intensity Interval Training) on a Spin bike using the revolutionary Myzone technology. Following the cardio-interval workout is a full body workout using a variety of equipment to keep the body and mind stimulated, while achieving incredible toning and strength results.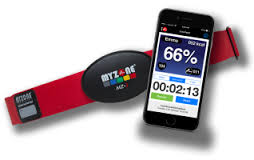 Each class will be carefully instructed by motivating coaches that strive to bring out your best in each 50 to 55 minute session.
If interested in joining this class,  you will be asked to purchase a Myzone belt ($89) before you begin your first session.  Please e-mail Liz to receive yours at [email protected]
---
Myofascial Ball Rolling
Instructor: Amy Deguio
This class is designed to condition your soft (connective) tissue of the body in a self-care fitness based format. Instruction includes anatomical guidance, breath strategies and proprioceptive awareness using the Roll Model Method®.
---
Yoga Tune Up Fitness
Instructor: Amy Deguio
This class is based off a fitness therapy format that includes a unique blend of yoga, corrective exercise and breath strategies designed to educate the body about biomechanics and proprioceptive awareness. The class aims to target areas in the body that are overused or underused in a strengthening way to improve healthy movement patterns. Various props may be used within the vast range of dynamic and static exercises.
---
Restorative Yin Yoga
Instructor: Elizabeth Doherty
A passive slow paced practice that moderately stresses the body to help improve flexibility, circulation and patience. Most poses are held 3-6 minutes utilizing props for comfort and release.
---
Myofascial Flow
Instructor: Elizabeth Doherty
Fascia is a network within the body like scaffolding. Healthy fascia relies on hydration and movement. Releasing the fascia through mindful movement and rollout balls allows the clearing out of cobwebs between the muscles. This clearing out allows the body to slide and glide more efficiently which reduces pain, increases mobility and speeds up recovery time.