Small Group Training (SGT) classes are exclusive to

Small Group Training

and

Small Group Training Unlimited

members. These classes are smaller in size than our regular group fitness classes and offer specialized types of training!
Check out our Memberships page if you are interested!
---
Current Small Group Training (SGT) Classes:
Myzone HIIT and Strength
Instructor: Liz Forkel
Mondays at 8:25 and 9:30
Wednesdays at 7:15 and 9:50
Fridays at 9:00
Enjoy a different workout each week that trains your heart and your body!  25 minutes of cardio HIIT (High Intensity Interval Training) on a Spin bike using the revolutionary Myzone technology. Following the cardio-interval workout is a full body workout using a variety of equipment to keep the body and mind stimulated, while achieving incredible toning and strength results.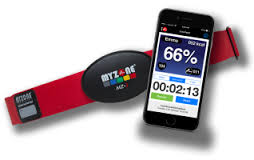 Each class will be carefully instructed by motivating coaches that strive to bring out your best in each 50 to 55 minute session.
If interested in joining this class,  you will be asked to purchase a Myzone belt ($89) before you begin your first session.  Please e-mail Liz to receive yours at [email protected]
---
Myofascial Ball Rolling
Instructor: Amy Deguio
Tuesdays at 9:30
This class is designed to condition your soft (connective) tissue of the body in a self-care fitness based format. Instruction includes anatomical guidance, breath strategies and proprioceptive awareness using the Roll Model Method®.
---
Barre/Pilates Fusion
Instructor: Amy Deguio
Tuesdays at 10:30
This 50 minute class will explore the Barre class  essentials with a Pilates infused approach. Attention to detail, alignment, and opposition within the small calisthenic like exercises will be taught for strengthening, lengthening and mobility goals.
---
Restorative Yin Yoga
Instructor: Elizabeth Doherty
Thursdays at 9:30
A passive slow paced practice that moderately stresses the body to help improve flexibility, circulation and patience. Most poses are held 3-6 minutes utilizing props for comfort and release.
---
Functional Movement
Instructor: Elizabeth Doherty
Thursdays at 10:30
"Stretch: To be made or be capable of being made longer or wider without tearing or breaking."
Learn to slow down movements, focus on individual areas of the body and control the breathing to improve mood, anxiety and flexibility. Learn to improve joint health, be injury proactive and create physical longevity. Start connecting with your movement potential.