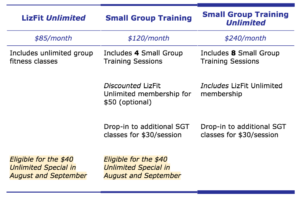 ---
---
How to sign-up 
Follow the link above to purchase your preferred membership. Then, go to the LizFit app to schedule your classes!
LizFit Unlimited memberships can also be purchased in the LizFit app (Menu > Buy )!
SGT "drop-in" sessions
By becoming a SGT Member, you can drop in to as many additional SGT classes as you'd like for $30/session.
Go to the class schedule select the SGT class that you would like to take as a drop-in class

Select the "SGT Drop-in" option in the checkout
Memberships FAQs